Just a nice litlte tip, so I can remember it myself if I need to change it again at some point 🙂
When you are presenting or sharing your screen with others, and they have another resolution than you, it can be hard to see the small things on the screen.
In SQL Server Management Studio, you can easily change the font size in the query window in the bottom left, like shown below.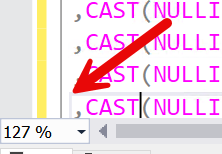 It is a bit harder in the result grid. To do that, click tools–>Options, and do as in the image in the top.
Click Fonts and colors
Select grid result.
Change the font size in the dropdown.
You'r welcome 🙂